A delicious/elegant app that requires virtually zero effort.
-Cream sauce(There are a bazillion methods. I favor this very simple preparation):
About 2.5hr-3hr prior to preparing app, pour a half pint of heavy whipping cream into a sauce pot and add 2(or whatever) slightly crushed garlic cloves, and a pinch of kosher salt. Simmer on the lowest heat you can possibly manage until sauce is very thick, but not quite custard-y(about 2.5-3hrs). It'll look like this.
At this point take a pat of butter and sprinkle a bit of paprika on it and allow to come to room temp.
-Arugula puree:
1 bunch italian flat leaf parsley, blanched(20sec or so), immediately cooled in ice water, then de-stemmed.
3oz arugula
3Tbs ice water
1/2C grape seed oil(or whatever)
kosher salt/pepper to taste
Combine parsley, arugula, ice water in a blender. Blend on low for a few seconds, then increase speed until smooth(you'll need to scrape the sides a bit)
Then
slowly
drizzle the oil into blender until emulsified.
Transfer to bowl, add salt and pepper, then set aside at room temp.
-Shrimp(uncooked):
Enough shrimp cover your guests, plus a couple extra for the cook(you know, to make sure they're prepared properly
). Shrimp=the bigger the better.
The pat of butter mention earlier
salt/pepper to taste
Peel/de-vein shrimp
Roll tight with belly on the inside...use toothpick to pin in place.
Smoosh butter/paprika together with fork to blend.
Place butter/paprika mixture in saute pan and heat to med/hi
Saute shrimp only until pink(2-3min). Overcooking shrimp is a great way to flush hard earned sheckels down the tubes.
Set aside(but not too long, you want the shrimp to be served hot)
While shrimp is draining, blend cream/garlic mixture until smooth(I use one of those hand held blender thingies)
Plate, drizzle with butter/paprika, and enjoy!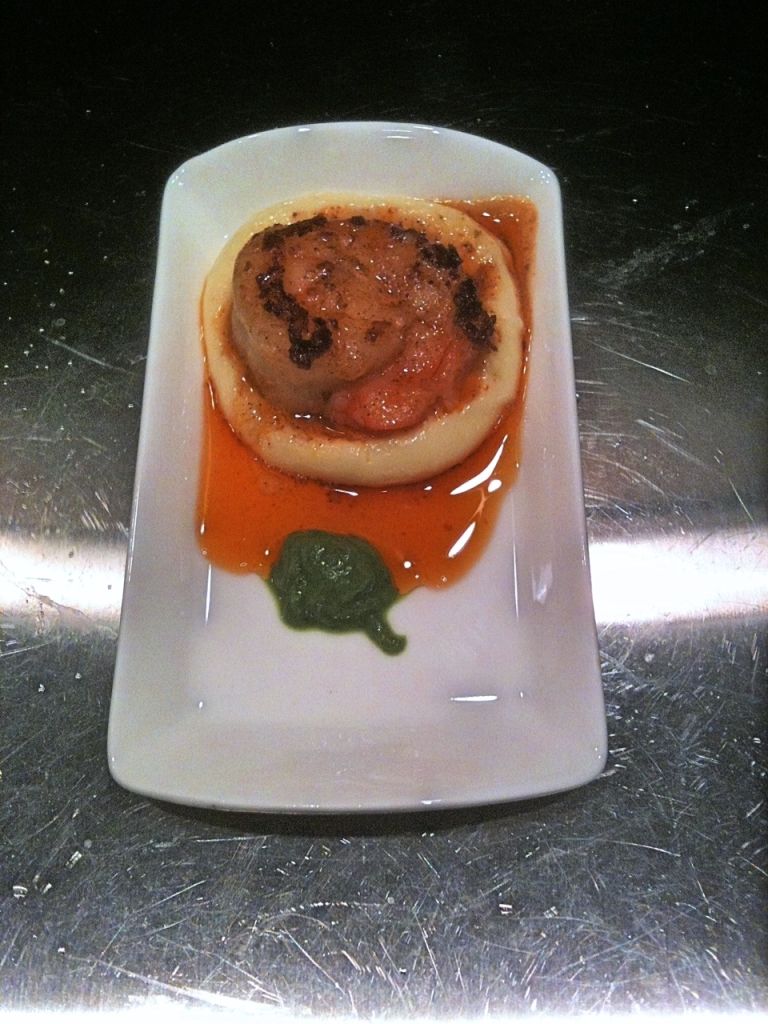 Not counting the sauce prep, it took me longer to type this than it takes to prepare it.