I work silly long hours at my job. I leave my house by 7am, am in work for just after 8, officially start my shift at 9 (though I spend about 40 minutes before providing free tech support to others on the floor), take a half hour lunch at 12:30, back to work til 3:30 when I get a second half hour lunch, then work through to 7:30 and am home by 8:30.
Lunches have always been a problem; the canteen staff have no concept of vegetarian, let alone vegan, I don't have time to go out, and if I overeat, I feel ill all afternoon.
So I struck on the concept of bentos... I bought a load of bento boxes of varying designs from Japan and invested in a few design books and set about creating small balanced meals...
There are like a billion people better at these than me but I am still learning.
Follows some of my recent ones...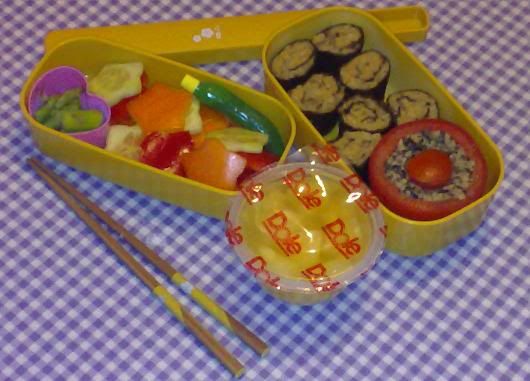 In the bottom layer is red lentils wrapped in nori sheets and a tomato stuffed with hummus (chick peas, black olives, olive oil, tahini). The top layer is flower-shaped pieces of pepper and cucumber with a little pot of celery and a mini plastic cucumber filled with lemon juice. Then just a fruit cup for afters.
Quinoa and sesame seed stars with kidney beans and a red pepper and sweetcorn salad (making that wrecked the Nicer Dicer I bought off the shopping channel at 3am... I sent it back in pieces with a VERY stiff letter...).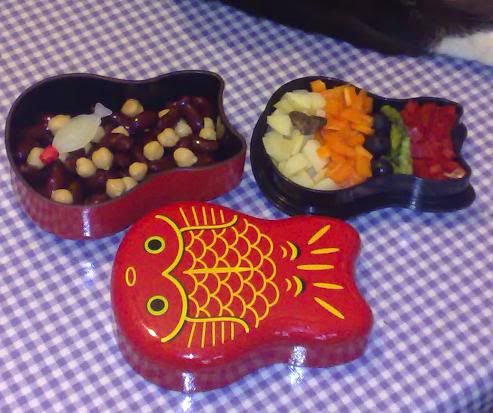 Bottom layer is kidney beans and chick peas with a little fish of lemon juice. Top layer is panels of red pepper, celery, black olives, orange pepper, and boiled potato with a nori heart-shaped eye.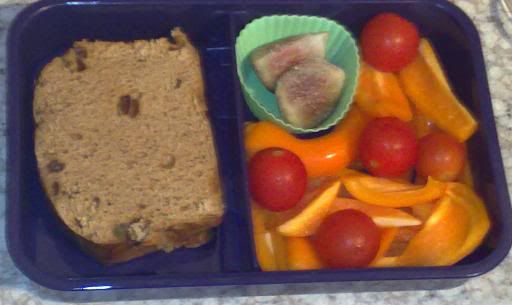 Orange pepper and cherry tomatoes, a slice of vegan Jamaican fruit cake (shop bought), and a couple of pieces of fresh fig.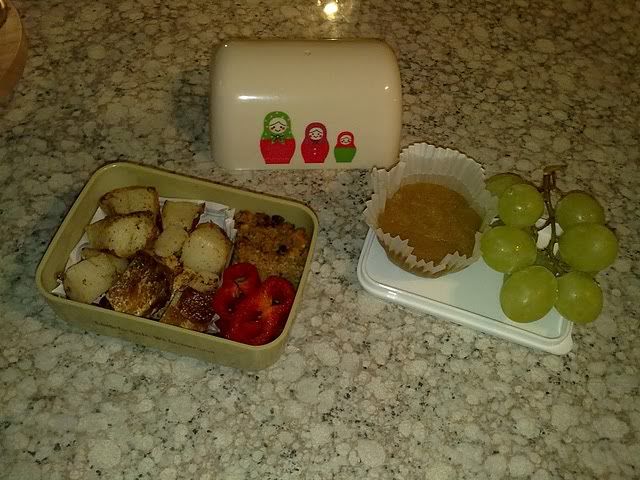 Dry-fried baked potato, red pepper, and left-over cashew nut roast (out of a packet so no fun recipes, I'm afraid), a pumpkin muffin from one of Isa Chadra Moskowitz's books, and some grapes. The little Matryoshka bento box is my favourite...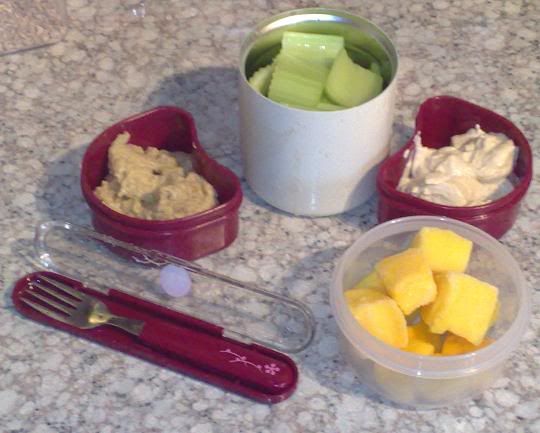 Celery, hummus (chick peas, olive oil, tahini, garlic, lemon juice) and baba ghanoush (roasted eggplant, garlic, tahini, lemon juice, olive oil, salt), and fresh mango.
Green lentils, nut sausage (brazil nuts, mushrooms, onion, bread crumbs, salt and pepper, whizzed in a blender and then shaped into sausages or burgers and fried), grapes, physillis, a mini pot of soy cream for dipping, and mini skewers of black olives and soy beans.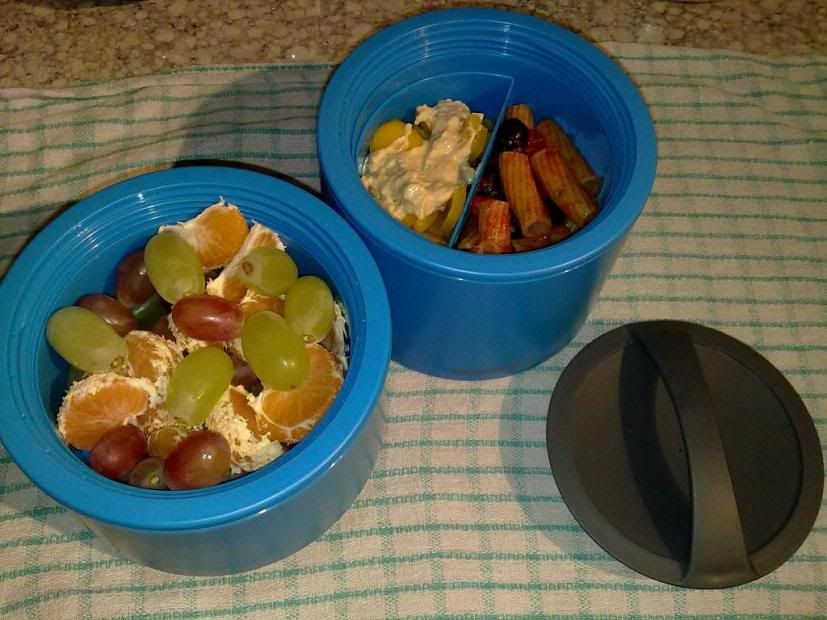 Wheat pasta with olives and a tomato sauce, yellow pepper with hummus, and a fruit salad.
I'll post some more when I next make some good ones...