---
RE: Photography - knitterbookbinder - 03-22-2012 02:08 PM

Rey -- That's real sad to see a lovely place disappear. Friend of mine lives in a small town in Saskatchewan where most of the houses were built right after WWII and apart from new paint and good upkeep, they haven't done much to them at all. Wonderful to find places like that. Sadly, here in Alberta, most people are only interested in tearing things down and building pink stuccoed gin palaces. Blech.

NWoBHM -- Unless there's a "story" behind older buildings, it's pretty common in North America to just haul them down. That's not to say there aren't exceptions: on Maryland's Eastern Shore, there is Wye Oak State Park, which is about 100 feet square, and has, yes, one old oak tree. ;-)

But there's just not the same system of listing on this side of the pond as there is on yours, sadly. (One of my photography buddies was here for two years doing a post-doc but originally a Brummie. Lovely part of the universe....)


---
RE: Photography - NWoBHM - 03-22-2012 02:54 PM


(03-22-2012 02:08 PM)

knitterbookbinder Wrote: Rey -- That's real sad to see a lovely place disappear. Friend of mine lives in a small town in Saskatchewan where most of the houses were built right after WWII and apart from new paint and good upkeep, they haven't done much to them at all. Wonderful to find places like that. Sadly, here in Alberta, most people are only interested in tearing things down and building pink stuccoed gin palaces. Blech.

NWoBHM -- Unless there's a "story" behind older buildings, it's pretty common in North America to just haul them down. That's not to say there aren't exceptions: on Maryland's Eastern Shore, there is Wye Oak State Park, which is about 100 feet square, and has, yes, one old oak tree. ;-)

But there's just not the same system of listing on this side of the pond as there is on yours, sadly. (One of my photography buddies was here for two years doing a post-doc but originally a Brummie. Lovely part of the universe....)

Hi Knitterbookbinder - it is a real shame that heritage can be "hauled down" - very sad. I quite liked the look of "Rey`s" farmhouse - it reminded me of Victorian terrace houses with the "bay windows".

"A buddy from Brummie" - I am about 30 miles South West from Brum - but Brutus reckons I am North West of BHM......Yes I do feel blessed to be here


---
RE: Photography - Gungawoman - 03-22-2012 11:12 PM

Rey-I bet your heart just sank! How sad. I see places like that and wonder who lived there and what memories were made in the old house. I've dreamed of buying places like that, thinking, "What if".....
NWo-in the States(or at least in California), there are "Historic" neighborhoods. There are rules about what you can and cannot do architecturally to the homes within the historical area, as well as what colors they can be painted, etc. Generally, the people who buy in these areas truly put a lot of time and effort (and money)into preserving the old homes. I lived in an area of So Cal for 11 years called "Old Town Orange". It was a lovely neighborhood.
Unfortunately, many old and wonderful homes are not in areas like this. Consequently, they become run down, then torn down. Or people buy them specifically for the location, and tear them down to put up something more modern.


---
RE: Photography - Scythe Matters - 03-23-2012 03:07 AM

How very sad, Rey. That was a lovely old house.

NWo, when we visited your lovely country one of the things we loved best about it was the age of the buildings. Not just that, but the loving care they were given. In Amesbury, we stayed in a beautiful old house that had been turned into a B&B. It was cool enough but across the street was a place called The George (yes, I realize that name is *very* common). It was built in the 1300s but stood on the site of a building from 900 (900!!!!!!).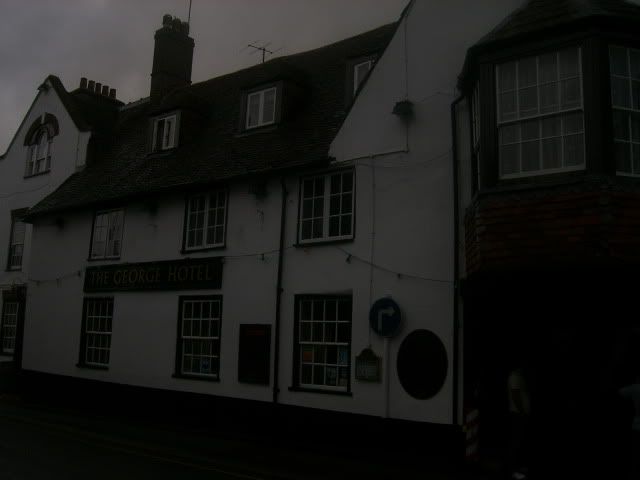 We also noted the thatch on many buildings around Wiltshire. When we asked about it, we were told that it was protected (like you mentioned). Repairs had to be done to period. The wonderful thing about that, to me, is that there are still people who know how to thatch a roof! Imagine, in our day and age, that is still a viable career. Lord, I love the UK
---
RE: Photography - NWoBHM - 03-23-2012 03:40 AM

Hi Scythe,

Yes - Even the reed that is used for the thatch has to be reed grown from local sources, (just as it would have been hundreds or years ago).

Our black and white cottage was probably once thatch (they can be prone to fire from chimneys), and had been replaced with tile - but if you look at the image above you will see how much the thatch overhangs the walls, and therefore (I think anyway) water drops safely away from the roof avoiding the walls - yet with ours it ran to gutters, but that didn`t always keep the water away from the walls, and occassionally water would come into the house around the beams, which would then expand a bit and seal themselves again. Part of the beauty of living in a house that is 350 years old.

When living in one of these houses you do tend to view them as not your property, but one in which you are preserving history for the next generation.

Did you see on my MIL`s house "Barrow Mill", it is famous for its Jacobean Porch. I just Googled the Jacobean era, (as I was not sure of the dates) and that was 1567 - 1625 with King James VI reign - so actually it must be older than I thought - there is a date carved above one of the beams, but I cant remember what it is - suffice to say it is a few hundred years old.

The funny thing is living here or Wiltshire, most of the houses and pubs date from the same time, especially in the country as there are very strict planning and building regulations, (again preserving not only the houses but the whole feel of an area) - so when I walked from our old black and white to the pub, I would be following the old foot paths (again foot paths are preserved and were traditionally the paths used by farmers / drovers, etc to get to work or move their stock), past houses to the pub which are hundreds of years old, just the same as some bloke did in the 16th Century, and looked upon the same views.....quite spooky (but nice) really.


---
RE: Photography - Markus Awreallyus - 03-23-2012 07:04 AM

Area 51 paintball, Kalkaska, MI
A whole new meaning to the term yard detail


---
RE: Photography - Rey - 03-23-2012 11:04 AM


(03-22-2012 01:05 PM)

NWoBHM Wrote: Blimey Rey - Dont you have preservation orders in the US?
(03-22-2012 11:12 PM)

Gungawoman Wrote: Rey-I bet your heart just sank! How sad. I see places like that and wonder who lived there and what memories were made in the old house. I've dreamed of buying places like that, thinking, "What if".....

Well, Nwo, we have what is called the "National Register of Historic Places" but, like others have said, they are typically with buildings in towns. This place was out in the country, which is not as regulated. There are lots of houses like this in towns, but they don't appeal to me as much. The house in my picture was in a beautiful country location, surrounded by nice trees, and was by itself without any other houses nearby. The location and the surroundings is what made this place shine. I value privacy and this was ideal.

I have since found another similar house in the same situation. I looked it up to see what the story was and found out it was for sale. Great! Well, not so fast, it is part of a 200 acre farm priced at over 2 million dollars. Funny though, the advertisement made no mention of the house at all. I called the broker and asked him, what about the house? He said they figured the house wasn't worth anything more than the farm land it was sitting on. Well, if that is the case, I told him to section off 5 acres around the house and sell it to me. I will give you more than the per acre asking price too. I was told no. They will not separate anything, its all or nothing. Amazing. They don't care at all about the house and I'm sure it will be bulldozed over this year and be gone too.

And yes Gunga, I too wonder about the people who lived there, the memories, the joys, the tragedies, their lives. A hundred years of history will be bulldozed over with it.


---
RE: Photography - NWoBHM - 03-23-2012 11:19 AM

Well that is pretty crap. Funny I would say it is opposite in the UK, country houses have "listings" and are protected much more than town houses. That doesn`t mean to say that there are not "listings" on town houses, but it seems more common "out in the sticks".

Worcester (my town), was apparently abundant in black and white houses, and would have been the envy of York in its day, but around the 50`s town planners felt we needed something much more modern to take our minds off years of war and austerity. We lost a lot of heritage to monstrous modern buildings. There are still many B&W`s left, but we lost the whole feel, cobbled streets etc.

I was down in London the other day at some meetings at Lloyds Bank, (just up from the BoE and Bank tube station and the Gherkin, and Shard), all very modern, high tech and high rise - but around the corner was a preserved piece of London, old pubs, shops, cobbled streets, really Scrooge Like setting - it was bloody marvellous - so I stopped and had some Fullers real ale on my way home!!

I didn`t punch any bankers either!! Double bonus!!


---
RE: Photography - Gungawoman - 03-23-2012 12:25 PM



Texas House by Gungawoman, on Flickr


We looked at this house in Texas earlier this year. Built in the 1700's, and made of stone. Awesome house! It was a tiny bit "gone" but very fixable. It was on the National Registry of Historic Sites. We found that if we bought it and fixed it to historic specs, there would be grants to help with the expenses. If we wanted to do whatever we wanted and NOT keep the historic significance, we could go that route, as well. The house would be taken off the Register, though. I thought that was a shame. I figured, once on the Registry, always on the Registry....
We talked to the listing agent, but someone had just bought it
---
RE: Photography - Rey - 03-23-2012 12:29 PM

Ooooh, it has a windmill too! Bonus points if a place has a windmill...


(03-23-2012 12:25 PM)

Gungawoman Wrote: We looked at this house in Texas earlier this year. Built in the 1700's, and made of stone. Awesome house! It was a tiny bit "gone" but very fixable. It was on the National Registry of Historic Sites. We found that if we bought it and fixed it to historic specs, there would be grants to help with the expenses. If we wanted to do whatever we wanted and NOT keep the historic significance, we could go that route, as well. The house would be taken off the Register, though. I thought that was a shame. I figured, once on the Registry, always on the Registry....
We talked to the listing agent, but someone had just bought it
---