09-28-2012, 11:13 AM
debskis
Senior Member


Posts: 297
Joined: Apr 2011
Reputation: 4
RE: SOUP!
Here's what I'm cookin' up in the crockpot today for the upcoming weekend. Similar to the Bean w/Ham I made last weekend, but the Split Peas have a much different flavor and texture. This is my kids absolute favorite soup and it's super easy to make!
SIMPLY SCRUMPTIOUS SPLIT PEA w/HAM
1 lb pkg Green Split Peas
1 C - Cubed Ham (w/a bone if ya got one!)
1 C - Carrots
1 C - Chopped Onion
1 T - Minced Garlic
2 C - Chicken Broth
4 C - Water
Salt/Pepper to Taste
Combine ingredients in crockpot and cook on low 8-10 hours or HIGH 6-8 hours. If you like your soup on the heartier side, you can shred 1/2 a peeled Idaho potatoe into the broth and let it cook another 1/2 hour or so. Or, if it's too thick, add more chicken broth or water w/chicken boullion, as needed.
Enjoy!
---
"I cook with wine, sometimes I even add it to the food."


W. C. Fields
11-19-2012, 02:02 PM
(This post was last modified: 11-19-2012 02:11 PM by Sunset.)
Sunset
The spice must flow...


Posts: 1,389
Joined: Jul 2012
Reputation: 18
RE: SOUP!
Cream of leek.
This one's sooo simple and soooooo savory...Mrs Sunset and all the little Sunsets demand it frequently in the Autumn/Winter months. It makes no pretense at being "good for you"...rather it simply delights your senses with creamy decadence.
1lb kielbasa
6oz bacon roughly chopped
1 lrg yellow onion
2 stalks celery
3 lrg leeks(stalk only)
3 cups chicken stock
1 cup heavy whipping cream
Salt/white pepper to taste
Pinch of nutmeg
-Saute kielbasa for color only in non stick pan...remove kielbasa and let rest.
-Add bacon to pan over med/low heat. Partially cook(about 3min) while stirring occasionally(Only to render fat. Bacon should be limp and rubbery, never even close to crispy)
-While bacon is rendering chop celery, onion, and clean leeks. This is the most important step in the process because GRITTY SOUP SUCKS!. Cut leek stalk in half lengthwise, then chop widthwise into 1/2" half rounds. Place in colander and TRIPLE rinse while swishing leeks around vigorously.
-Add celery, onion, and leeks to bacon. Add salt, pepper, and nutmeg. Add chicken stock. Add kielbasa also...cover and cook on low for 45min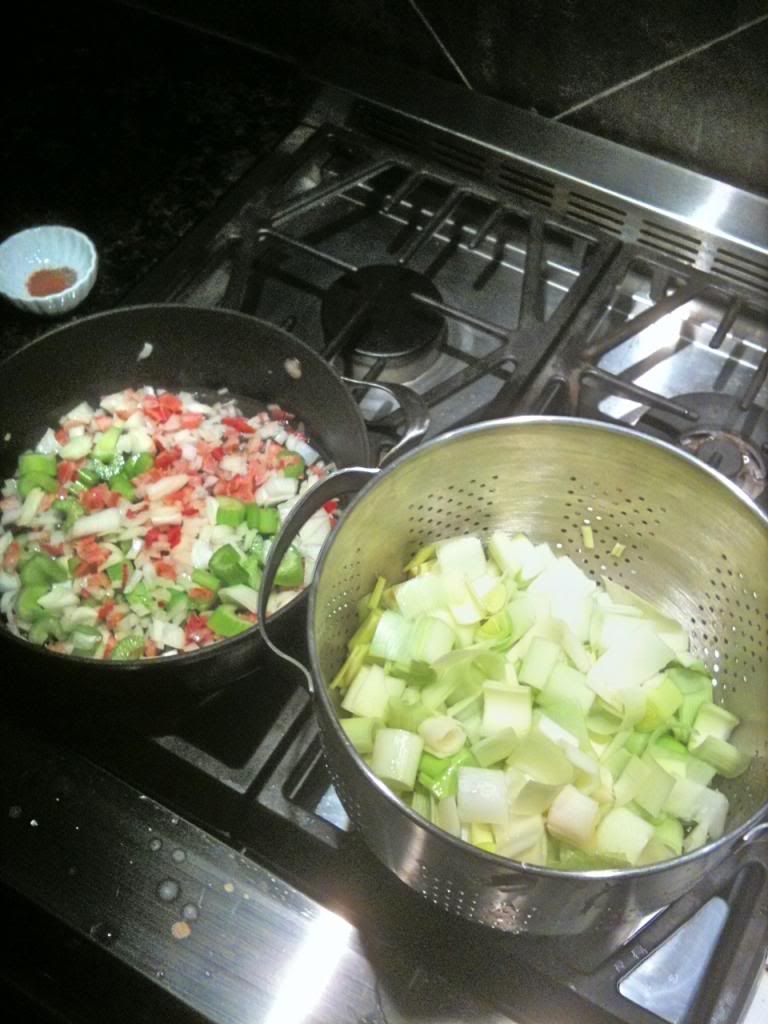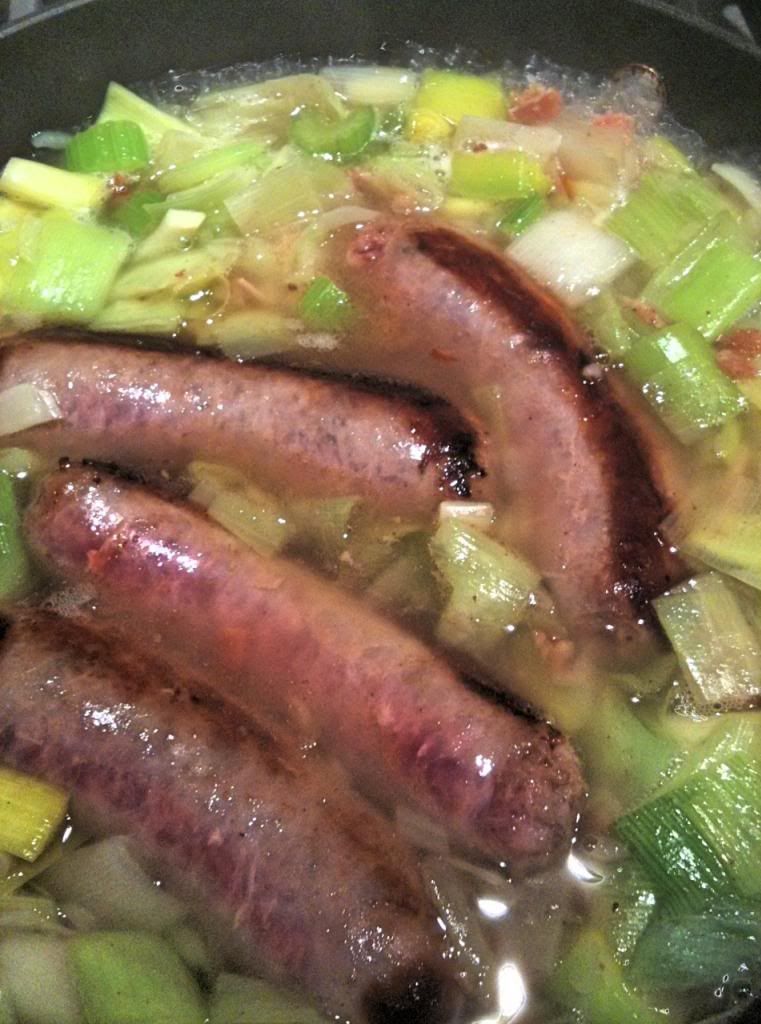 Remove kielbasa, transfer pan contents to food processor and process until smooth. Return soup to pan and add 1 cup heavy whipping cream on low heat(never boil). Check salt level, and plop the kielbasa in there reserving one.
Top soup with thinly sliced kielbasa and bacon crumbles. Serve with chunky bread and red wine(I went with the 2010 Daou Zin this time)...ENJOY!
---
To ask why we cook is to ask why the leaves fall...
11-23-2012, 12:52 PM
Layllah
Member


Posts: 91
Joined: Mar 2011
Reputation: 1
RE: SOUP!
Italian escarole soup

1lb turkey sausage
1 bunch escarole
1onion
2 cloves garlic
2 cans great northern beans
2 12oz good chicken stock
3/4 cup sliced carrots (fresh)
1/2 cup pecorino Romano
1/2 cup parmesan
Milk, cream, or soy milk whichever one your waistline can endure!

Sauté sausage, onion, garlic in stock pan drain grease if there is any. Add chicken stock, great northern beans, and carrots let it simmer until carrots are tender but not soggy. Add Romano, Parmesan and just enough milk, cream, or soy milk to turn it white. Heat it until hot and add escarole. (Do not Boil) salt and pepper to taste serve with some good Italian bread. The whole process takes about 20 minutes. Enjoy!
---
"An Oasis of Solid Ground in an Endless Sea of Confusion"
01-16-2013, 01:55 PM
burma.girl
Thoooper-Dee-Doooper Moderator \m/


Posts: 828
Joined: Jun 2011
Reputation: 14
RE: SOUP!
(Another) Mulligatawny Soup!
We usually make a double batch, as our fam tends to gobble it up (including the 7yo and 5yo)!
Ingrediments
:
1/2 C. chopped onion
2 stalks celery, chopped
1 carrot, chopped
1/4 C. butter
1 1/2 T. flour
1 1/2 t. curry powder
4 C. chicken stock
1 lb. chicken, cooked and shredded
1/4 C. rice, uncooked
1/2 C. heavy cream
1/2 Granny Smith apple, chopped
Salt, Pepper, crushed Thyme
Fresh cilantro
-In 4Qt heavy pot, saute onion, celery and carrot in butter, until translucent (med/high heat).
-Add flour. Stir continually for 5 min. Add curry powder, stir another 2 min.
-Add chicken and stock, season with salt/pepper/thyme (to taste). Stir and reduce heat, simmer 10 min.
-Stir in rice. Cover and simmer until rice is cooked (approx. 20 min.)
-Stir in heavy cream and apple, simmer another 5 min. Serve garnished w/fresh cilantro.
Et voilà! A hearty, creamy & nommy soup to keep you warm on these cold 'n' blustery days!
---
Blah blah blah....yada yada yada!
01-28-2014, 07:21 AM
2Beers
It's all about the ride


Posts: 2,375
Joined: Apr 2010
Reputation: 15
RE: SOUP!
With the weather being a bit on the arctic blast side of life I thought this would be a good thread to be bumped up for today.
---
"... always throw spilt salt over your left shoulder, keep rosemary by your garden gate, plant lavender for luck, and fall in love whenever you can..." Practical Magic
01-28-2014, 09:03 PM
LiveToCook
Senior Member


Posts: 323
Joined: May 2012
Reputation: 6
RE: SOUP!
2beers, great idea... As I am not much of a soup person during the warm periods... The weather we know these days does have a certain appeal for soup time and especially the solid cream types... As I am on the road right now, I will most definitely post a couple of my favorites on my return. Thanks for the ''bump''!
01-30-2014, 03:04 PM
Sunset
The spice must flow...


Posts: 1,389
Joined: Jul 2012
Reputation: 18
RE: SOUP!
That mulligatawny looks goooOOOooOOOood! Killer presentation too!
We've been posting record high temps and extreme drought conditions over here. So, only one thing to do...wash the roadster AND wash/squeegee my 55 photovoltaic panels. I mean really, is there any better way to insure precipitation than to perform tasks that'll render my efforts worthless if it rains? Sure enough...it is, as of yesterday afternoon, raining like crazy. Yay! Of course, after performing the great service for the State of California and taking one for the team, I needed something with which to console myself.
Spicy white bean soup with chorizo and kale(topped with a few parm shavings). This recipe may be found in the Feb edition of Bon Appetit. The only changes I made were 4oz of chorizo in the beginning and the slightest, merest trace of cinnamon at the end.
---
To ask why we cook is to ask why the leaves fall...
01-30-2014, 08:04 PM
Gungawoman
Another Ant here in Bubba's Ant Farm!


Posts: 2,182
Joined: Apr 2011
Reputation: 21
RE: SOUP!
Looking good, Sunset, but I'd leave out the (shudder) chorizo.

You washed your bike? I thought they had a moratorium on water usage in NorCal. My sister told me that in Willits, each household is only allowed 50 gallons per day! Yikes!
---
If I'd known you were French, I'd have worn galoshes...
01-30-2014, 08:52 PM
Sunset
The spice must flow...


Posts: 1,389
Joined: Jul 2012
Reputation: 18
RE: SOUP!
Ai La Madre! No te gusta el chorizo?
Didn't wash the bike, washed the roadster.
Also, although I would give much to live on the mendo coast and will actively do my best to wind up there someday...I currently live nowhere near NorCal. My water table is at 40ft.
---
To ask why we cook is to ask why the leaves fall...
01-30-2014, 09:39 PM
2Beers
It's all about the ride


Posts: 2,375
Joined: Apr 2010
Reputation: 15
RE: SOUP!
Mmmm... Sunset. As usual your food pics are pure enjoyment.
---
"... always throw spilt salt over your left shoulder, keep rosemary by your garden gate, plant lavender for luck, and fall in love whenever you can..." Practical Magic
User(s) browsing this thread: 1 Guest(s)