02-09-2012, 11:56 AM
Onebad70ss
Senior Member


Posts: 434
Joined: Jul 2011
Reputation: 9
RE: Grey Area
Hi Deb:
I have read your post a few times and was wrestling with the notion of replying. As you can see, I have (although I'm not sure what I have to say is helpful or not). Monica and I have had 3 Beagles in our time together and have had to put down 2 in the process. It is the most heart breaking, gut wrenching ordeal that I have been through in my entire life. I would have to say that saying goodbye to those 2 Beagles and losing my younger brother in 2005 are the absolute worst things that I have experienced.
As far as how much money does a person spend to keep Zack going, that has to be entirely up to you and your husband. I suppose the decision has to be based on what is best for everybody (including Zack). The realization that things will probably only be getting worse, not better is a tough one to accept also. Ol' Zack is almost 13 and I know that our first Beagle lived to 14, but our second one only made it to 12. I know, you want to have them last forever (gosh, I know we do), but in reality he is right in that category of maximum life expectancy for a Beagle (12 to 16 years, I think). I know I'm not being much help here, but please know that I have been through this and these things really tug at your heart strings.
We went through pretty much the same thing as you are going through right now a year ago with our male Beagle, Monty. He wasn't doing too well - the vet figured it was bladder stones, so Monty had an operation to get rid of those, but there was so much other stuff going on inside of him that we eventually had to put him down about 4 weeks after that operation. I still beat myself up over having to put him through that operation at that age, we really thought we were doing the right thing, based on our vet's diagnosis, but he suffered terribly after that operation.
In hindsight, we should have said put him down when he was having issues, but how do you know? I will never forget that fateful day, when we finally mad the decision to say goodbye. Feb. 6th 2011, Superbowl Sunday. We were going through a terrible snowstorm that day, and he just went out his doggy door to the uncovered portion of our deck and just lied down and let the snow come down on him. I brought him into the house a few times, but he just went right back out there. I knew that he was telling us that he had, had enough and just wanted to go. We were lucky enough to have our vet come in on a Sunday and put him down, but what a terrible day.
By the sounds of it, you are not taking this decision lightly. Whatever you decide, I am sure it will be the right one. Take care, will be thinking of you.
Here is a pic of our ol' Monty boy. This was taken the day before the fateful Sunday. He was such a good boy - We brought him up from his nice warm home in South Carolina to the great white north here in British Columbia. As you can see by his eye's, he had, had enough...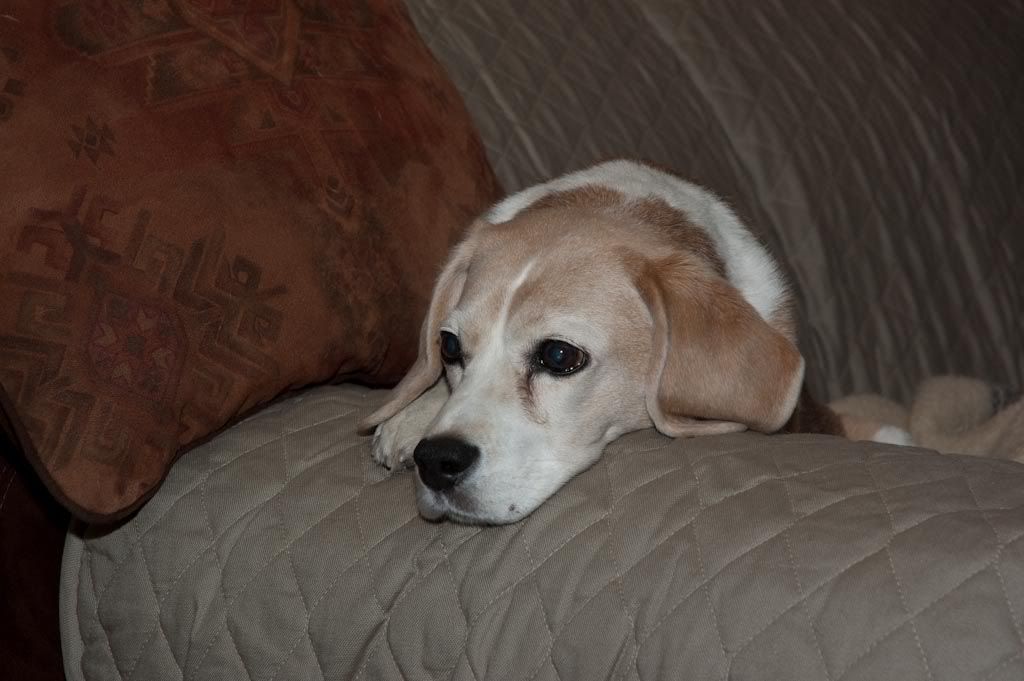 User(s) browsing this thread: 1 Guest(s)