Serious grillin': On the virtues of yak and kangaroo
05-25-2015, 09:24 PM
(This post was last modified: 05-25-2015 09:48 PM by SpaceCadet.)
SpaceCadet
Uh-huh-huh - he said "Member" Hm-hm-HEH!


Posts: 182
Joined: May 2010
Reputation: 5
Serious grillin': On the virtues of yak and kangaroo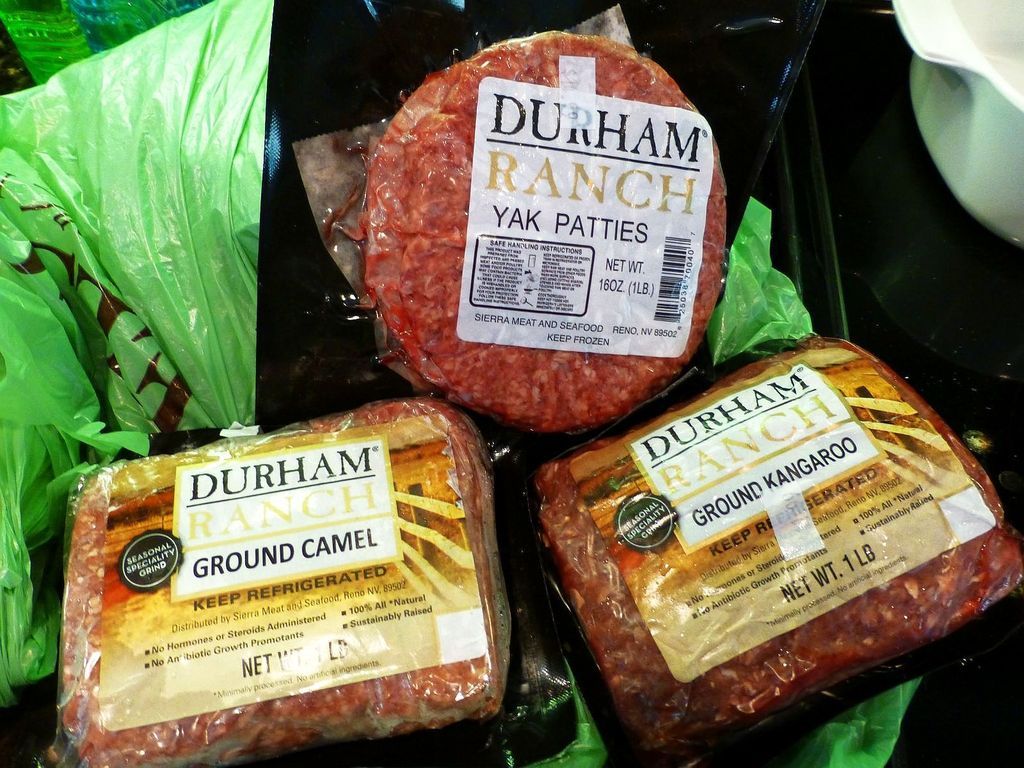 So I decided to freak out the people at a bud's Memorial Day potluck BBQ, and since the ground ostrich was way too expensive ($24/lb) and the ground llama didn't have that blood-red freshness, I decided to go for the camel, kangaroo and yak. For the faint-hearted I got a few Wagyu beef patties too.
I did nothing fancy, just salt & pepper and slapped 'em on the grill, but the yak and kangaroo were actually more tasty than the Wagyu beef. The camel, not so much. I'd expected the kangaroo to be really gnarly, but other than a subtle hint of gaminess, it tasted like some really good-quality beef (I grew up on a NoDak cattle ranch, so I can identify crapola beef at first bite.)
The yak was even better - which means I'm going to be making it a regular part of my diet. Well, as regular as I have hamburgers, at any rate. I suppose that follows - I had to do a DuckDuckGo search for "yak" after the fact because I couldn't remember what they were, but since they're basically hippie cows...
The camel, surprisingly, tasted like hamburger too, but it was more bland in flavor, significantly tougher, and with a weird graininess of texture.
So go for the yak and the 'roos, pass on the camel.
---
"

Waiter...can you stop that noise? What you call 'music.' It sounds like dirty water. How can they eat food - and listen to ****?"


- Sabina (Lena Olin) in

The Unbearable Lightness of Being
05-30-2015, 09:38 PM
Boomer
WSBB Minion


Posts: 4,783
Joined: Apr 2010
Reputation: 21
RE: Serious grillin': On the virtues of yak and kangaroo
SC - camel is NOT MEANT for human consumption!!!!

The WAGYU might be good.....yak, well, I'll take yer word for it. The 'Roo meat, according to my Aussie buddies, is wonderfully delicious.


Remind me to ask before eating at your place!
---
Primary Principle - "It must NEVER be my fault"
05-31-2015, 09:52 PM
SpaceCadet
Uh-huh-huh - he said "Member" Hm-hm-HEH!


Posts: 182
Joined: May 2010
Reputation: 5
RE: Serious grillin': On the virtues of yak and kangaroo
Boomer, I'm a big fan of Messrs. Zimmer and Bourdain, so always up for trying what's weird in the hope I'll find something new to like. I'll stop significantly short of some of their fare though - that thing where Bourdain sat down with some African tribesman for some barely-cooked pig intestine, or where Zimmern pulled that humongous wood-eating worm out of a scrub tree on some tropical island and just wolfed it down raw, etc.
'Lot to be said for stir-fried grasshoppers though. And I will definitely have to get to Taipei for some Stinky Tofu at some point. 'Meantime, I gotta get me some more yak. (Now
there's
a sentence you don't see often, neh?)
---
"

Waiter...can you stop that noise? What you call 'music.' It sounds like dirty water. How can they eat food - and listen to ****?"


- Sabina (Lena Olin) in

The Unbearable Lightness of Being
User(s) browsing this thread: 1 Guest(s)