05-26-2010, 05:46 AM
Marshmallows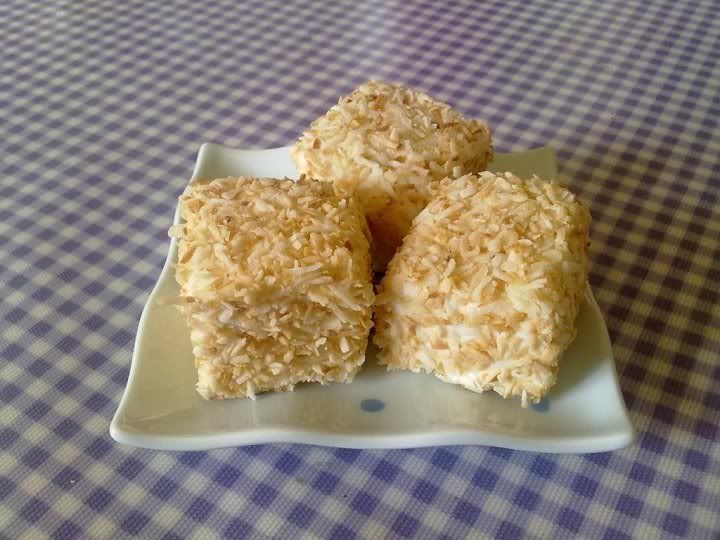 One of the things I missed most after becoming a vegan was big juicy marshmallows. They contain gelatin (animal sourced) so they are a massive no-no. I have spent years trying to find an acceptable alternative. Dandies make one but the one time I ordered, they arrived in a huge sticky lump and could not be separated and they didn't even resemble marshmallows in texture or taste. I started experimenting with my own recipes. Most contain rice flour (I am allergic to rice) and were akin to big gobby eye balls... I finally hit on this recipe and it is amazing - sugar, water, glucose syrup, carrageenan, cornflour, soy protein, and flavour. These are Madagascan vanilla and toasted coconut. They are wonderful. They do make me feel so sick, though, because you can't eat just one... or even one dozen..
---
With all of my dietary restrictions, I'm left with lipstick and water
05-26-2010, 12:31 PM
2Beers
It's all about the ride


Posts: 1,767
Joined: Apr 2010
Reputation: 12
RE: Marshmallows
Oh,Please do share the recipe... I have an allergy to peanuts and eggs so this looks like it would be a wonderful treat.
---
If you can't play by OUR rules take your toys and go home!!
05-26-2010, 01:53 PM
RE: Marshmallows
I am so bad with recipes as I do everything by looking and going "that looks about right..." This is about as accurate as I can get it though.

5 tb sp soy protein
1/4 tsp cornflour
Cold water
1.5 C sugar
1 C glucose syrup
1 tsp carrageenan
2 tsp vanilla extract
Toasted coconut to decorate.

1. Put carrageenan, soy protein, cornflour, and 1/2 c water in a mixer
2. Combine sugar, syrup, and 3/4 c water in a saucepan. Stir frequently over medium/low heat until mixture reaches soft ball stage
3. Slowly add the hot mixture into the mixer as it runs on low. Increase the mixer's speed to high and whip for 15 minutes. The mixture should be three times its original size. Add the vanilla and beat slightly
4. Sprinkle coconut into 8x8 pan. Pour in the mix. Spread and dust the fluff with coconut
5. Wait until set (I leave overnight)
6. Cut into squares and coat edges with coconut

My other favourite ones are vanilla (use cornflour to coat instead of coconut) and goji berry (a sprinkle when you would add the vanilla).

Good luck!
---
With all of my dietary restrictions, I'm left with lipstick and water
05-27-2010, 07:43 PM
Brutus
Administrator


Posts: 500
Joined: Feb 2010
Reputation: 13
RE: Marshmallows
Very nice pic! A picture is said to tell a 1000 tales. Does this one tell a 1000 calories? Never thought I'd get a jonesing for marshmallows. You may have created a monster. Thanks...I think!
---
Sacred cows make the best hamburgers.

I bought a doughnut and they gave me a receipt for the doughtnut... I don't need a receipt for the doughnut. I give you money and you give me the doughnut, end of transaction. We don't need to bring ink and paper into this. I can't imagine a scenario that I would have to prove that I bought a doughnut. To some skeptical friend, 'Don't even act like I didn't get that doughnut, I've got the documentation right here... It's in my file at home. ...Under "D".'
05-27-2010, 11:55 PM
RE: Marshmallows
Hehehehe... sorry...
---
With all of my dietary restrictions, I'm left with lipstick and water
User(s) browsing this thread: 1 Guest(s)