05-27-2010, 09:46 AM
Vegetable ideas?
This is going to sound really daft coming from a devout vegan but I have issues with vegetables. I mean serious psychological issues. I do eat vegetables but only certain types and at certain times.

The last time I ate cauliflower, I spent the night calling God on the big white telephone... I can't look at cauliflower right now.

I also can't look at garlic.

After 6 months of avoiding tomatoes, I can now eat them raw.

Similarly, after 2 months of using onion in dishes and then picking each individual piece out, I can now eat onion as long as it is in big chunks...

So... what are some of your best basic vegetable recipes?

I currently love peppers but they have to be cooked (this is medical rather than psychological - I have an ulcer) and I can eat carrots, asparagus (in Asian salad), peas, and corn on the cob... It would be nice to expand my horizons though...
---
With all of my dietary restrictions, I'm left with lipstick and water
05-28-2010, 11:20 PM
Nettie
Deputy Dinosaur


Posts: 3,930
Joined: Apr 2010
Reputation: 18
RE: Vegetable ideas?
This is my favorite way to eat vegetables:
Chop up a whole red pepper, peel and chop up an eggplant, a zucchini, yellow summer squash, red onion(eliminate whatever you don't like or can't eat). Mix with a geneous coat of oilve oil and some rosemary, spread in a single layer on a cookie sheet, and roast in the oven at 350degrees for 45 minutes to an hour(or until the eggplant is brown and squishy).
Serve over noodles or grains.
Or cut up potatoes and do the same thing(olive oil, rosemary,roast)and serve them together.
You can also add this mixture to your favorite spaghetti sauce, or put it on pizza.
---
05-28-2010, 11:29 PM
RE: Vegetable ideas?
Ooh sounds interesting. I shall go buy eggplant and have a go... thanks!
---
With all of my dietary restrictions, I'm left with lipstick and water
06-02-2010, 12:42 PM
RE: Vegetable ideas?
Irezumi's Adventures With Vegetables, Part 1.
I went to the supermarket this morning with the intention of buying everything I would need for nettiesaur's recipe...
I didn't have the energy to go to my regular place the other side of town so just popped into the local shop. No squash, no red onions... So I decided to buy whatever was in the bargain bin/looked nice.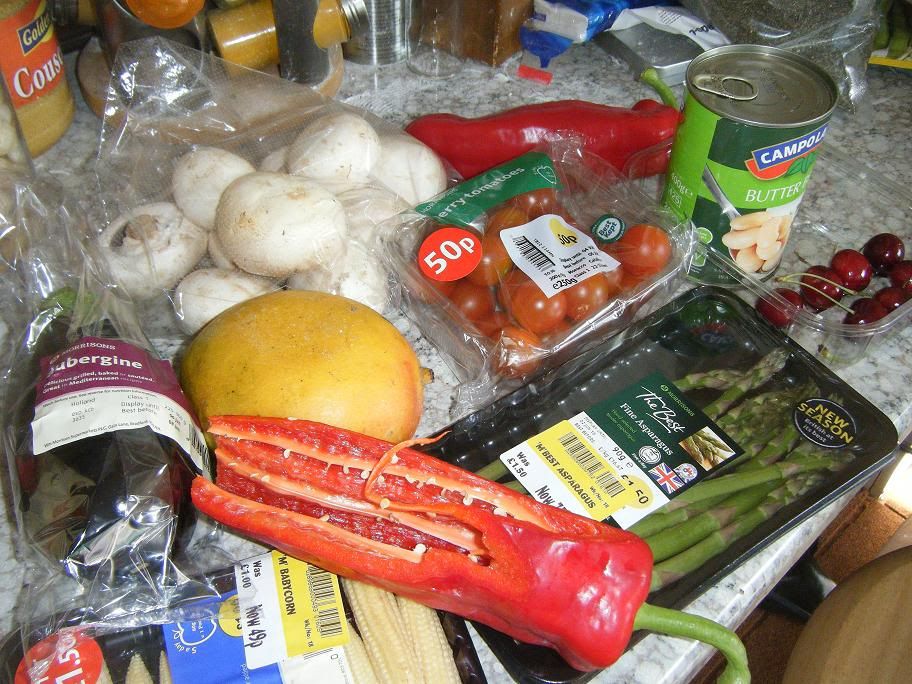 I ended up with some red peppers (I attacked one to go in some hummus for lunch), an aubergine/eggplant, a bag of mushrooms, baby corn, asparagus that was really past its best, and some cherries. I also added a can of butter beans out of the cupboard and a mango that was right on its last day before it exploded.
The plan was to make it all into a tagine but after I got all the veg out, I discovered my tagine pot has disappeared. I assume my sister has borrowed it so I will never see that again...
Plan B.
Cut everything up and throw it in a large saucepan.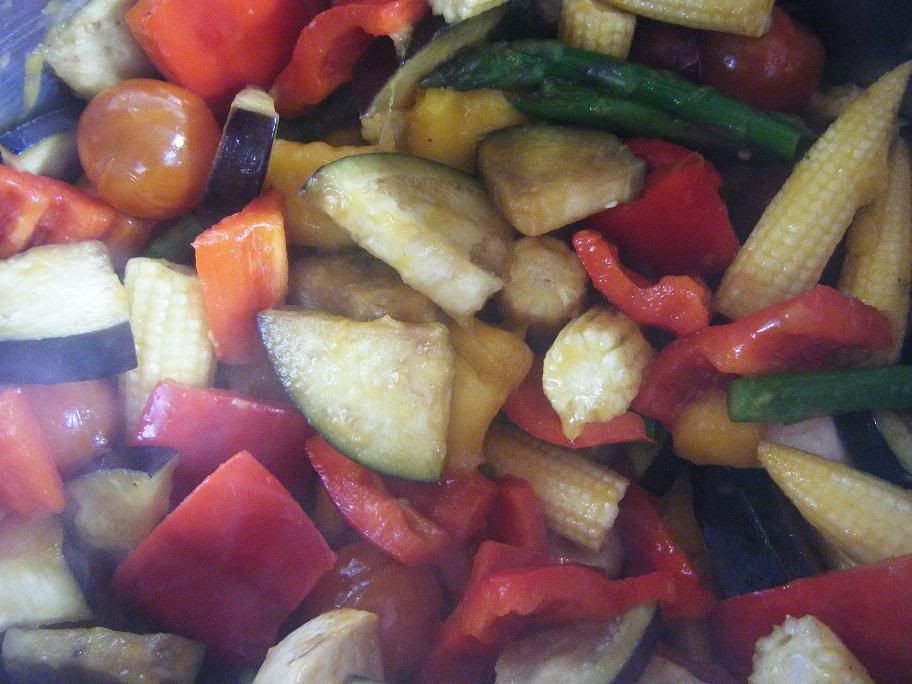 I didn't use oil because the tomatoes and mango broke down really quickly so no extra fluid was needed. I cooked it until the veg started to soften and then made a sauce - tinned tomatoes, dried apricots, coriander, garlic, fresh mint, paprika, cayenne pepper, cinnamon, cumin, and freshly squeezed lemon juice. Heated it through while I cooked everything else.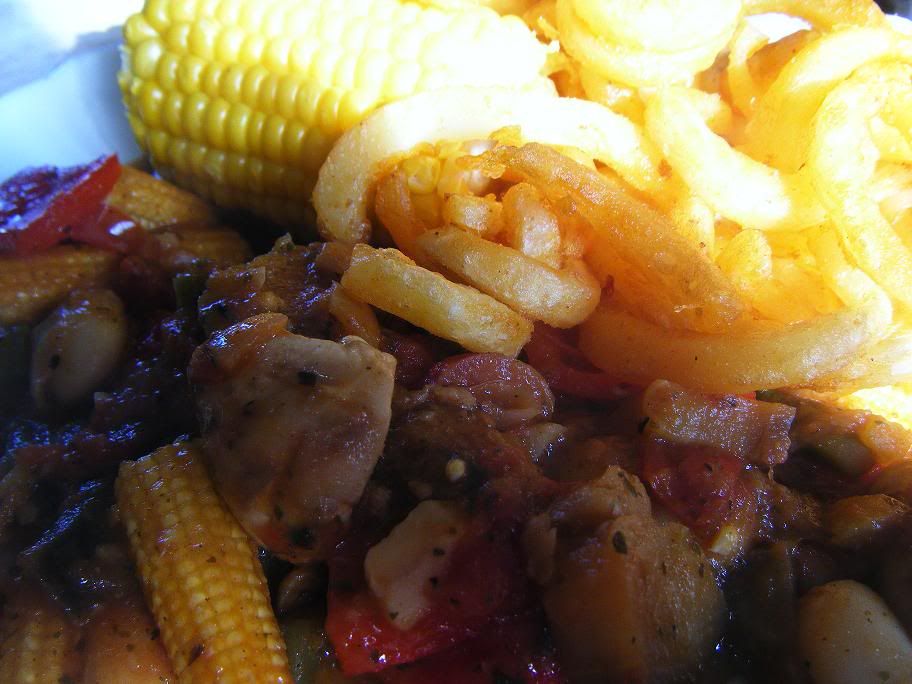 Served with healthy corn on the cob and even healthier curly fries...
It was really nice. I normally can't eat mushrooms if they look like mushrooms and eggplant is hit or miss with me (as is asparagus and baby corn). I think it worked well though.
---
With all of my dietary restrictions, I'm left with lipstick and water
06-29-2010, 10:26 AM
2Beers
It's all about the ride


Posts: 2,367
Joined: Apr 2010
Reputation: 15
RE: Vegetable ideas?
Recently my daughter and a few of her friends got together and the home they were going to was a vegan home. All were asked to bring a dish to pass and she called to tell me she had made veggie rolls. Kt used tortilla wraps and then spread vegan cream cheese on and sprinkled finely chopped roma tomatoes, english cucumber, black olives and alfalfa sprouts. She rolled them up tight and allowed them to chill in the fridge for a bit and then sliced them about a 1/2 inch thickness. I asked how they were and she replied that the plate was empty when it was time to leave.
---
"... always throw spilt salt over your left shoulder, keep rosemary by your garden gate, plant lavender for luck, and fall in love whenever you can..." Practical Magic
07-22-2010, 02:25 PM
Nettie
Deputy Dinosaur


Posts: 3,930
Joined: Apr 2010
Reputation: 18
RE: Vegetable ideas?
Ratatouille!
I had to look up a recipe for it, but I made it last night.
ratatouille recipe
I chunked things instead of slicing them, and added some summer squash.
---
User(s) browsing this thread: 1 Guest(s)