Valley Cafe, Ellensburg WA
07-08-2011, 07:48 PM
(This post was last modified: 07-08-2011 07:52 PM by evilsugar25.)
evilsugar25
Junior Member


Posts: 2
Joined: Apr 2011
Reputation: 0
Valley Cafe, Ellensburg WA
Greetings B'n'Bers!
On the way home from the last RUSH show at The Gorge last week, I stopped in the charming, 'historic' little town of Ellensburg, WA, where I found a little eatery called "The Valley Cafe."
The Cafe was opened in 1930, and in 1938 was remodelled in the Art Deco style, outfitted in custom-crafted wooden bar & stools, booths, back-bar and refrigerated reach-in cases. ...And that's it! It has not been touched since.
Oh, the menu has changed (they have one c. 1938 on the back bar, though, you can check it out for yourself to see the cuisine and prices of that era), but not much else.
From the inlaid linoleum floor to the custom barstools, this place transported me to another era (was it, say, a
Time Machine?
)
While I sat with my delicious breakfast of homemade corned beef hash and poached eggs, strong coffee and freshly-squeezed OJ (yeah, reading "Far & Away"... I admit it)... I said out loud to no one, "Bubba would love this place." And i think you would too.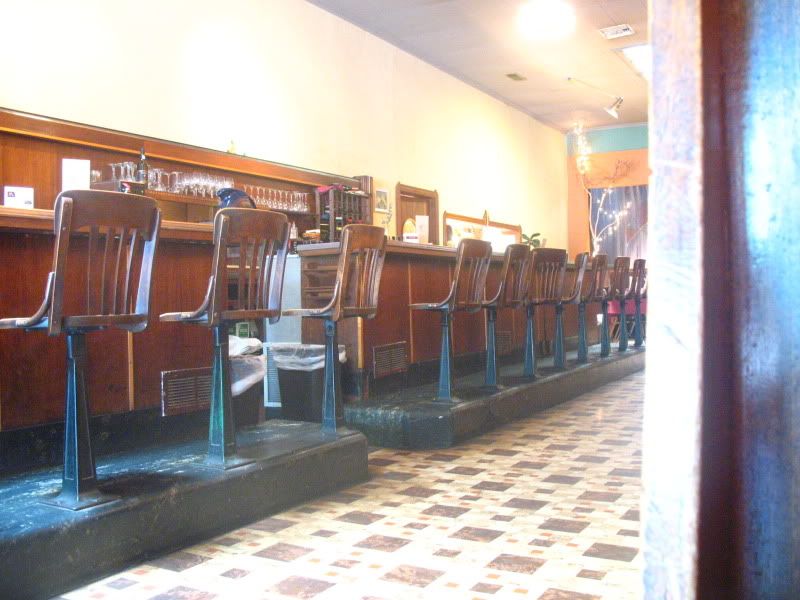 More pix:
Ellensburg Photo Album
http://maps.google.com/maps/place?oe=utf...CDoQ4gkwAw
User(s) browsing this thread: 1 Guest(s)