08-12-2012, 08:02 PM
smoker guy
Prime Mover


Posts: 1,163
Joined: Apr 2011
Reputation: 8
RE: Dirty Landbargin'
(08-12-2012 06:43 PM)

CanyonDancer Wrote: Ok, I'll have the softest chair reserved for you! (and some asprin!) Didja use Clinton, UT? That's wherez I be....
I just used Ogden, UT. I remembered you mentioning that city/town once.
---
I'm taking a ride with my best friend...I hope he never lets me down again.
08-12-2012, 09:02 PM
RE: Dirty Landbargin'
Close enough!
---
Love and respect...
Turn up the music and smile!
ASSTA Member
08-12-2012, 10:01 PM
smoker guy
Prime Mover


Posts: 1,163
Joined: Apr 2011
Reputation: 8
RE: Dirty Landbargin'
I'm totally JAZZED at the thought of all the great dirt to stir out your way! Plus all the Cool back pavement to shunpike on.
---
I'm taking a ride with my best friend...I hope he never lets me down again.
08-12-2012, 10:26 PM
RE: Dirty Landbargin'
There's a really nice day loop I'd like to take folks on. Twisty two lane back country loveliness.

(JAZZED...ha ha...like Utah Jazz...too funny...>facepalm<)
---
Love and respect...
Turn up the music and smile!
ASSTA Member
08-13-2012, 12:23 PM
Sunset
The spice must flow...


Posts: 1,389
Joined: Jul 2012
Reputation: 18
RE: Dirty Landbargin'
The road to Covelo...a Native American reservation.
I'd been eyeballing this area for quite some time. Always wanting to hit it like the fist of an angry god, but always foiled by weather, time constraints, unwilling riding partners, or somesuch. It's one of those blank areas on the atlas with, seemingly, no "civilization" for miles and miles...it starts nowhere and leads nowhere. Which is to say, it's one of those areas that draw me like a moth to flame. The weather was sketchy...cold with rain threatening(riding high clay content dirt roads in the rain on Michelin PR3's is a challenge, even to an old dirtybike guy like me), and I was alone. Welp, sounds like a dirty landbargin' adventure...so let's get it on!
All successful landbargin' starts out with the 3 P's. Planning, preparation, and Pinot. When I set the glass down, the ruby refraction fell exactly on the road I would take. A good omen, so I recorded it for history.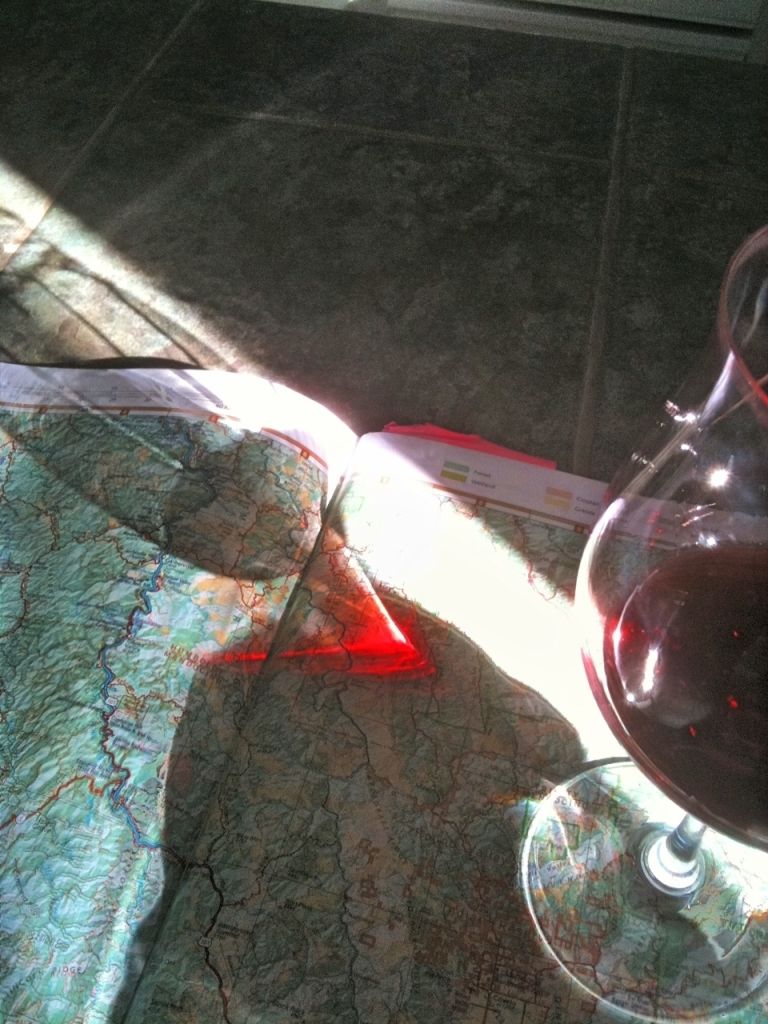 My starting point, as usual on the NorCal romps, was the rugged Mendocino coast...just south of Elk Ca. The loop was +/-320mi and I figured about 8hrs from kickstand up to my first swig of single malt at days end. It being early December, I'd need every scrap of daylight possible. The plan was to bomb up hwy1, through Mendo, Bragg, Westport and Leggett...then up hwy101 to Garberville where the real fun would start. Just north of Garberville I headed east on Alderpoint road, then east/southeast on Zenia Bluff road. Sounds pretty straighforward, but it's like the wild west in this area. Road signage was either shot to smithereens or simply non-existent...which was problematic because I was forced to stop, back track, and actually get off the bike to consult the atlas. These actions fly right in the face of my "keep moving and mind my own business" mantra when riding in the Emerald Triangle.
After a misstep or three I finally, with great relief, rode through Kettenpom, signifying I was on the right track. The road soon turned to dirt as I passed through Hoaglin(Benchmark atlas company might want to update their info on that one lol), and the threatening rain became a non-issue as I descended toward Covelo.
Interesting footnote on the above photo. I had no sooner snapped it when I heard the unmistakable whistle of a supercharged diesel engine. And sure enough as I was putting my gloves back on a young man in an EXTREMELY expensive 4X4(the wheels alone were worth more than my landbarge) came roaring to a stop 3ft from me. Remember my comment on the Emerald Triangle? Yep, this guy was the poster boy. He leaned waaaay out of the cab, closing the distance between us uncomfortably and asked me my business in the area. If things went hairball, I only had 3 options...none of them desirable. Fortunately for both of us, my "just passin' through on the way to Covelo" answer mollified him somewhat and he spooled up that $70K monster truck and tore out of there in a big cloud of dust. Yikes...
The scenery and geology changed dramatically as I moved toward Covelo, from clay road dominated by spanish moss covered deciduous forest...
To scrubby pine dotted Ponderosa where I thought I might see ol Ben, Hoss, and Lil Joe jess a sittin' onna porch an spittin' tobacky.
After passing through Mina, and finally Covelo itself, I picked up the 162(a glorious bit of twisty fun), then 101 north to Branscombe road(home of the carpet bombing turkey vultures), and back to hwy1 south toward home base.
It had been a wonderful, adventurous day...and as I got within 1/4mi of my Mendo coast base of operations I was treated to THE most spectacular sunset(I'm kinda fond of those) I'd ever seen. Evidently, it was the most spectacular sunset the local denizens had ever seen as well, based on the fact it was the major topic of discussion where any group of 3 or more people congregated(like over a crock of cassoulet at dinner) for the next 2 days.
---
To ask why we cook is to ask why the leaves fall...
08-13-2012, 12:35 PM
smoker guy
Prime Mover


Posts: 1,163
Joined: Apr 2011
Reputation: 8
RE: Dirty Landbargin'
VERY nice ride report, and great photos Sunset. Keep up the great photo shots.
---
I'm taking a ride with my best friend...I hope he never lets me down again.
08-13-2012, 12:57 PM
RE: Dirty Landbargin'
Wow...those are beautiful! That's it...I'm moving out to where you are just so I can follow you around!
(just kidding!)
---
Love and respect...
Turn up the music and smile!
ASSTA Member
08-13-2012, 09:06 PM
Gungawoman
Another Ant here in Bubba's Ant Farm!


Posts: 2,182
Joined: Apr 2011
Reputation: 21
RE: Dirty Landbargin'
GREAT pics and great read, Sunset! My niece (who lives part time in Willits-part time in Mendo) goes to Covelo for a big reggae festival. At least I THINK that's where it is. Or maybe it's a spa that she and my sister go to in Covelo.

Any who.......have you been up or down Hwy. 128??? I love that drive from Clovis through the farm land and into the redwood forest. Pass through Boonville which is about as backwoods as it gets. I hear though, that there are very few left there who speak "Boon". From there, you continue NW. You come up over the mountain and suddenly, there's the Pacific in all its splendor! Great drive!
---
If I'd known you were French, I'd have worn galoshes...
08-14-2012, 01:40 AM
RE: Dirty Landbargin'
WOW! That is one spectacular sunset!
Nice scenery
---
... in a world where I feel so small
I can't stop thinking big!
08-14-2012, 09:48 AM
N'awlins
How Ya'll Are?!


Posts: 570
Joined: Aug 2011
Reputation: 3
RE: Dirty Landbargin'
I think I see that pesky dragon in those clouds!
---
"Rollin' numbers, rock-n-rollin', got my Kiss records out!"
User(s) browsing this thread: