Toomey's Whoa Nellie Deli...Lee Vining, CA
08-05-2014, 01:43 PM
(This post was last modified: 08-08-2014 11:55 AM by Sunset.)
Sunset
The spice must flow...


Posts: 1,389
Joined: Jul 2012
Reputation: 18
Toomey's Whoa Nellie Deli...Lee Vining, CA
In the Fall of 1997 I was riding Tioga Pass on my good ol' CBR900RR. Fuel range was about 110mi, so once I descended eastern Sierras I was in need of fuel and stopped at the Mobil station(corner of 120 and 395) for same. I was paying cash which necessitated my presence inside the actual building where I spied a food counter at the rear. Curious, I walked over to peruse the specials board..."Kansas City strip steak, rack of lamb with sweet chili sauce, steamed little neck clams, lobster bisque".
What the???? Rack of lamb in a gas station? Either these people were painfully deluded, or I'd stumbled on to something special. I wasn't particularly hungry, but I just had to know if it was curtain A or curtain B. I ordered the lobster bisque aaaand....it was freakin'
outstanding
! Not just outstanding for a gas station in the middle of nowheresville...it was outstanding period.
I've returned many times over the last 17yrs, and although it's much more crowded nowadays and the food is much more homogenized with slightly lower quality aimed at the masses...it's still some of the best food on the eastern Sierra. If you find yourself hungry and in the area I would definitely recommend it.
Just rode the passes last week and stopped in for a bite...lobster taquitos.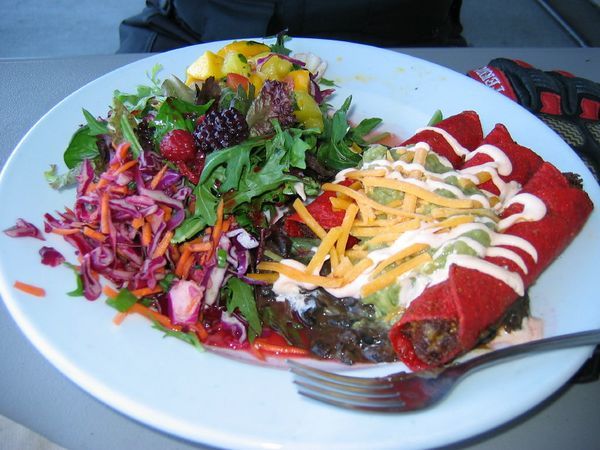 *EDIT*
Evidently, Toomey has sold his stake in the Whoa Nellie and re-located his operation in nearby Mammoth Lakes. He serves many of the same dishes he pioneered at the Whoa Nellie, albeit at a higher level of quality and service one must assume.
---
To ask why we cook is to ask why the leaves fall...
User(s) browsing this thread: 1 Guest(s)