Grilled Chicken Cordon Bleu
05-07-2010, 11:46 AM
(This post was last modified: 05-07-2010 01:20 PM by LakesideMaiden.)
Grilled Chicken Cordon Bleu
Okay so tomorrow my sister and I are going to try a spin on the classic Chicken Cordon Bleu by grilling it. She had the same reaction to this suggestion that I'm sure some of you might be thinking - the cheese will just melt right out of it and get all over the grill. Well, I thought about it for a few and said, who says the cheese has to be
inside
of it? Why not make it like I usually do, only leave the cheese until the end and melt it on top just before serving it? So we'll be doing this tomorrow and I'll let you all know how it turns out - along with the recipe!
05-08-2010, 10:35 PM
(This post was last modified: 05-09-2010 10:06 PM by LakesideMaiden.)
RE: Grilled Chicken Cordon Bleu
Okay, we are very pleased with how this turned out! This was a joint effort by my Sister (Rhiannon_of_Rivendell) and myself....that ended up happening WAY later than we expected this evening. So. The recipe
I'll list the recipe per chicken breast, and you can double or triple, and so on, for as many people as you're making it for. I always buy chicken breasts and freeze them singly to thaw as we use them. So, having said that, when you do this, have the chicken be only about 3/4 thawed - will make things much easier.
Ingredients:
1 boneless chicken breast
2 slices of deli ham - we used Kayem Black Pepper Crusted ham
2 tsp dijon mustard
1/2 cup grated swiss cheese
2 tsp olive oil
salt & pepper for pre-grill seasoning
Take the chicken breast and filet it in half - this is tricky, which is why I suggest to have the chicken still a little bit frozen. You can finish thawing it once it's filleted.
Take one half of the chicken breast and put a slice of ham on top. Spread 1 tsp of dijon mustard over the ham. Roll the breast up with the ham inside. If need be, use a metal skewer to hold chicken together. Repeat with the other half of the breast. Cover both with olive oil on both sides, and season with salt and pepper.
Grill for approximately 5 minutes on each side. Cover with 1/4 cup of the shredded swiss on each and melt for 45 seconds in the microwave.
These aren't the best photos; they were taken inside at night with no flash.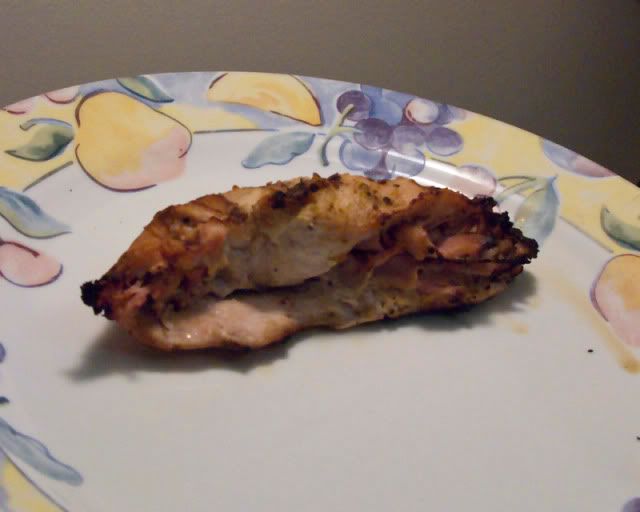 before the cheese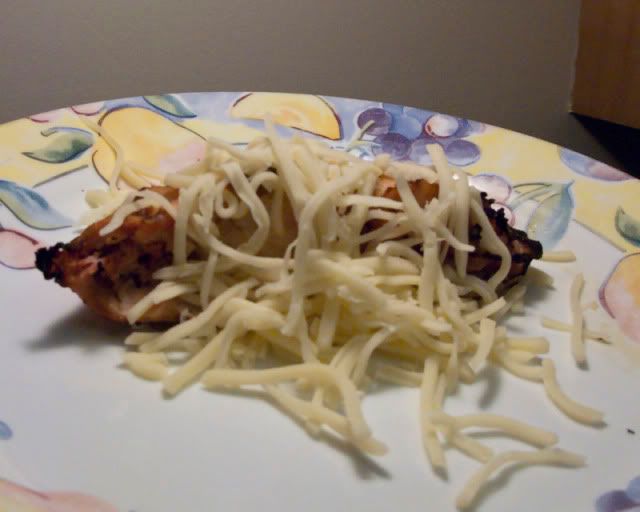 after the cheese
Let me know if you try it and what you think!
05-09-2010, 03:09 PM
RE: Grilled Chicken Cordon Bleu
Right up my alley, I will be giving this a try in the next few days.
05-09-2010, 10:05 PM
RE: Grilled Chicken Cordon Bleu
07-21-2010, 09:40 PM
RN-PRN
Got your shots right here!!


Posts: 2,633
Joined: Apr 2010
Reputation: 15
RE: Grilled Chicken Cordon Bleu
Hmmmm...might have to give that a go. Always looking for new ideas for chicken. I usually make Chicken cordon bleu in the oven. My kids scramble over each other to get to it. I don't cut the chicken though, but pound it so it is thin and it usually cooks fairly fast.
User(s) browsing this thread: 1 Guest(s)